Honoring Tom Johnson: Shana's 2023 BDOG Fundraiser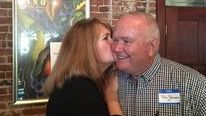 Join me by honoring Tom Johnson and making a difference at Placer High School!
$497
raised by 6 people
$1,000 goal
Placer High School and the Hillmen Foundation lost one of its greatest champions this spring: Tom Johnson. Whether you knew him as Coach, Mr. Johnson, or just Tom, he undoubtedly left a positive impact. Even if you did not know him at all, Tom's legacy and legend lives on. 
From 1972-1997, Tom was a popular English teacher, vice principal and principal. But he was perhaps best known for teaming with another Hillmen icon, Bill Miller, to establish a 12-year football dynasty that would include three undefeated seasons, eight Sierra Foothill League titles, five Sac-Joaquin Section Division II championships, and a 93-18-1 record. The 1977 and 1980 teams were named No. 1 in the State.
Tom, along with fellow legend Jug Covich, also established the Hillmen Foundation in 1989 to help bridge critical funding gaps and create an enriched learning environment at Placer High. Because of their leadership, tenacity and vision, the Hillmen Foundation has provided nearly $850,000 to strengthen Placer High academics, athletics and student activities. We are humbled to continue their work.
That's why I am giving to and encouraging your support for the Hillmen Foundation.
The Hillmen Foundation is an independent nonprofit organization dedicated to enhancing Placer High and our community in the areas of academics, athletics, student activities, and alumni relations. 
All funding comes from private donations, with 100% of the funds raised going to the Foundation's efforts to benefit Placer High and the Greater Auburn community. 
Please join me in honoring Tom Johnson's memory by giving a tax-deductible gift to the Hillmen Foundation through the Big Day of Giving. 
You can learn more about the Hillmen Foundation at hillmenfoundation.org. If you have questions or would like more information about leaving a legacy gift in Tom's memory or for another loved one, please send an email to info@hillmenfoundation.org.
Thank you for your support. We'll miss you, Tom!